Sometimes it is easier for God to forgive you than for you to forgive yourself. You separate yourself from God when you are in a state of mortal sin, but this separation ends when you seek reconciliation and truly repent for your failures at holiness. While it is easy for us to abuse the sacrament of reconciliation (and my younger self was certainly guilty of treating confession as a quick "get out of jail free" card), it is even easier for us to fall into a state of sorrow and guilt when we mess up...and surprisingly easy for us to remain in this state even after we are forgiven by God and by the people we have wronged. I have been guilty of this too and it has been something I have struggled with and something that other people struggled with.
This week, I was fortunate enough to overhear a priest mention that it was Padre Pio's feast day. Officially, I suppose it is proper to consider it the Feast of St. Pius of Pietrelcina...but I (for whatever reason) cannot help but continue thinking of this wonderful monk as Padre Pio...or Saint Padre Pio. It is more of an affectionate term than a lack of respect on my part. I heard the priest as I was leaving confession at the Church and Friary of Saint Francis of Assisi in NYC...and quickly made my way to the Church of Saint John a block or so away to commemorate the day with a quick visit to
Padre Pio
. As I knelt at the altar to offer some prayers, a nice older lady held up a Padre Pio relic for me to venerate and handed me what appeared to be two booklets. I was also given the opportunity to write a few intentions down, which I did. I also thanked Padre Pio for his intercession in the *big announcement* CURE OF MY COUSIN. That's right...my cousin (who was diagnosed with Ewing's Sarcoma less than a year ago), is CURRENTLY IN REMISSION.
I did not realize until later that day, that these booklets contained a third class relic of Padre Pio as well as some very wonderful spiritual guidance on forgiving yourself. I am including the spiritual guidance offered in the end of one of the little booklets published by the
Capuchin Franciscans (Province of St. Mary)
...and I really hope they don't mind my sharing as I felt it too uplifting and helpful to keep to myself.
"Spiritual Guidance from Padre Pio"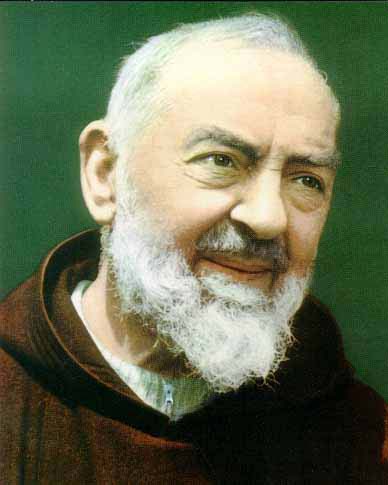 Someone complained to Padre Pio of being excessively distressed by sins he had committed. Padre Pio replied: "That which you feel is pride; it is the demon which inspires you with this sentiment, it is not true sorrow." The penitent replied: "Father, how can you then distinguish what comes from the heart and is inspired by Our Lord, and that which is inspired by the devil?"
"You will distinguish it," replied Padre Pio, "always by this: The spirit of God is a spirit of peace, and also in the case of grave sin, it makes us feel tranquil sorrow, humble, confident, and this is due precisely to His mercy. The spirit of the demon, on the contrary, excites, exasperates, and makes us in our sorrow feel something like anger against ourselves, whereas our first charity must be to ourselves, and so if certain thoughts agitate you, this agitation never comes from God, who gives tranquility, being the Spirit of Peace. Such agitation comes from the devil."
If you are having any trouble forgiving yourself for the things you've done, even after you've repented and sought God's forgiveness...please be at peace. God, as I have found out time and time again, is loving as well as merciful. His mercy is endless and He never tires of picking you up when you fall down...just as a parent will pick up a child when they fall on the ground. We need to trust in His Mercy...and one step towards trusting His mercy is in finding forgiveness for ourselves. God loves you and God forgives you...so do not be afraid to forgive yourself!
Pax Vobiscum